For those who want to share the Living Consciously® experience with their family and/or their favorite group, seminars are available, customized to their specific interests and goals. The seminars include:
a live facilitator
shorter manual (than the Living Consciously Personal Edition), designed to fit into an 8-hour seminar, while still retaining the central core elements of the larger, longer course. The process keeps its power. There are five Living Consciously manuals in this series, with reading levels for 4-year-olds (nonreader) through adults;
secular presentation option, to work within guidelines and regulations required in most public venues. Your group will make its own choice regarding orientation;
evidence based, including both confidential , personal progress reports, plus progress reports for the entire group – which are great for group discussions and collaboration. The compiled reports protect personal information.


Dr. Sue
These seminars provide wonderful platforms for poignant experiences of discovery, sharing, and learning that enhance relationships, communications, understanding, mutual support, and how your group lives and/or works together. Living Consciously seminars are marvelous for:
Adult study groups – secular or faith-based;
Parenting
Families – including parents and children of one large family or multiple families learning together;
Significant other relationships
Neighbors
Youth groups
Committees
Clubs and associations
Living Consciously is an extraordinary program that changes lives permanently and for the better. It is a course about life and holistic in approach, including a balanced, practical handling of the four aspects of life: thought, feeling, physical, and spirit.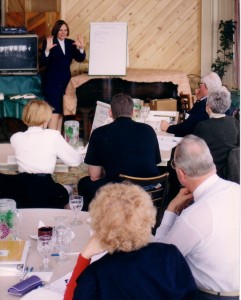 It is a process that causes dramatic, positive changes in individuals and groups. Learning takes place on both a unique, individual level – as well as simultaneously with others in the group.
For groups in the context of the workplace, please contact our sister organization Conscious Company Inc. They administer Working Consciously™ curricula for employee development, for staff and managers, and Leading Consciously™ for organizational leadership. (Their website is currently under construction.) Please contact: 866.849.2615 x 111 or .