The experience of poverty is saturated in fear, depression, hopelessness, resentment of injustice and anger.  Until these overwhelming, confusing and debilitating emotions can be healed and consciously managed, there can be no clarity or consistency in the person's life.
The conditions caused by fear, resentment and anger make it impossible for those trapped in poverty to fully use and sustain the prescribed behaviors of most other programs. This is the CAUSE of the "revolving door" syndrome, where individuals move in and out of poverty and are unable to retain employment. This revolving door is also prevalent in cases of substance abuse and criminality.
This Initiative to break poverty roots out the rampant fear that causes chaos and confusion in the minds – and the affairs – of those struggling with poverty.  It lifts the fog of confusion and puts power for living constructively in their own hands.  Once clarity and empowerment are established, then all the information / intellectually-based programs for those in poverty can be more effective.
The Grassroots Initiative to Break Poverty … taking local responsibility to end poverty in our communities
Community need and widely growing interest in our Grassroots Initiative, and its dependable results, have concentrated the focus and broadened the scope of the program offering.
Poverty is growing our communities.  Generational poverty is increasing.  Our communities are already stretched providing emergency help for food, clothing & money for rent, utilities, etc.  THIS HELP IS ONLY TEMPORARY. WE MUST START GETTING AT THE CAUSES OF POVERTY IN OUR COMMUNITIES.  Allowing emergency programs to be used long-term creates dependency, crushes personal initiative and self-esteem and becomes "toxic charity".  To be effective, we need to work together using a method that has been proven, is evidence-based /statistically trackable, and shown to be sustainable.
In collaboration with community churches, businesses, service clubs, human service agencies,  individuals and foundations – and tapping on years of experience using a profoundly effective, simple program, we stand poised to demonstrate a way to begin to make inroads into the monumental problem of poverty.  Invitation to Churches

Grassroots Involvement in Action
This is a grassroots movement swelling in Northeast Indiana, involving churches, businesses, service clubs, human service agencies, township trustees and individual citizens coming together.  We break the hold of poverty on our neighbors – one person at a time. We work together to bring the full Living Consciously® program to them in small localized groups.  Our collaboration will also be giving each participant personal, caring support and encouragement through the process into a better life.
This initiative is transplantable.  It will work in your community.
Who is collaborating
Conscious Community offers coordination, leadership and implementation of the full Living Consciously program over a 120-day period.  Funding for programming comes from the communities: from churches, businesses, service clubs, local government, families/individuals and local foundations.  Invitation to Churches
These collaborators are providing:
referrals for those currently living in poverty, who want to participant, want t change their lives.  This selection is made by people who know and serve them personally;
befrienders who support the participants, with transportation; providing web access for gathering progress report data, plus offering encouragement and friendship;
locations in the participants' neighborhoods in which to hold the seminars, mentoring sessions and support groups, plus provide childcare; and
special consideration for hiring of our graduates extended by a growing number of local businesses.
 What it does for those currently living in poverty
Poverty is one of the greatest tyrannies and slaveries in the world today.  The greatest causes of continued poverty often lie within the individual.  This program offers parents simple, effective tools to better their financial situation and improve the current lives and future of themselves and their children.
Living Consciously®, the core curriculum, gives each person the tools to, first, remove the causes within, and then to deal with the causes outside of themselves constructively and effectively.  The befrienders enfold them in respect and encouragement, building friendships that often continue after the program.
Living Consciously instills the character of true job readiness, preparing individuals with employability and the ability to get and keep a job.
In addition, each one is treated like a valued person by their neighbors.  Not just given only temporary relief like food, but forming relationships of respect and encouragement.  Each graduate is invited to become part of their community's GIBP committee, which leads the ongoing implementation of the Initiative.

Who benefits?
Directly:  the adults, who are now living in poverty;  secondarily:  their families;  indirectly:  our communities.  These individuals are chosen by referrals from churches, township trustees, local human service agencies, food banks and service clubs.  They will receive a practical, simple, proven method to break the hold of poverty on their lives; get mentored practice in using it;  get 3 reports on how they are doing;  join together for  3 support groups;  and increase their clarity, employability, decision making, self-sufficiency, ability to hold a job and positive self-esteem.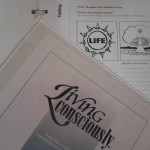 Program description
The core, foundational Living Consciously® program, powerfully improves life skills, dependability, choices for success & job readiness. It gets to the CAUSES of both problems & success.  LC is a unique, evidence-based program that significantly impacts and sustains positive life changes.
The program consists of a 9-hour seminar, usually split into 3 parts; each participant gets a manual.  The seminar teaches how to tell the difference between constructive & unconstructive choices, why it is in one's own best interest to choose constructively, and how to do it in today's high-stress society.  Most important is the "how to" to break out of unconstructive life patterns, choose a constructive life with a good future – and to stick to it.

This program is evidence-based.  Detailed statistical tracking is part of the program.  Surveys are taken at the beginning & every month for  90 more days, with a 1-on-1 mentoring session, using the confidential, personal report, at each follow-up.  The reports help each one really see how they are doing.  With our mentor, they discuss what it tells them about themselves and how that relates to their real, everyday life.  Then, they create a plan for improvements for the next period of time.
A monthly support group for all participants of a seminar group and their befrienders happens after each survey follow-up.  Compiled reports, with their wealth of insight, are also used by those in support roles to gain deeper insight into those they serve.  Final reports for each group are shared with those who contributed financially, so they can see the return on their investment.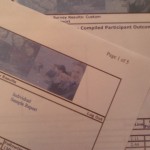 How will you know people benefited?
Through Living Consciously statistical tracking system, including:  personal, confidential reports tracking how each one is doing, using a baseline, and 30,60,90-day reports.  Plus, compiled reports of all participants together;  three 1-on-1 mentoring sessions (with each participant), using personal reports; 3) befriending community members specifically helping and becoming acquainted with each one;  and anecdotally, through personal statements of participants.
Program relevancy and past experience
Most programs treat SYMPTOMS of poverty, i.e. food, clothes, shelter, budgeting.  We take out poverty at its CAUSES.
By our own past experience, we know this program has had lasting effects in our community regionally – both in individual lives and at-large.

Since 1998, we have helped nearly 1,500 adults, and therefore their families break poverty. Almost 500 of these got off welfare, due to income.  The relative simplicity of this program makes it easy to learn, use and internalize.  Its use consistently reaps substantial, real-life rewards.  Typically, employability of participants rises 28%-42% – to the equivalent of an "A" – even in this high-risk population.  (A 3%-5% improvement in mainstream adults is considered very good.)
For more information: Breaking Poverty
For individuals, participating in the Grassroots Initiative to Break Poverty, this means the rise out of lives resigned to degradation, drug use, abuse, criminality and crushing poverty, with low or no expectations.  Hope returns, faith in themselves, confidence, accomplishment, employment and sustained success.

Who will benefit
At-large, implementation of the Grassroots Initiative to Break Poverty program will have a substantial impact within our communities.
It improves job readiness, which has been demonstrated in SUSTAINED EMPLOYMENT;
It will create SELF-SUFFICIENT CITIZENS who PARTICIPATE in the betterment of their community;
It will help participants' CHILDREN grow up to THRIVE;  and
Also enriches the neighborhood and community in which they live.
Compared to the results (results that are statistically and anecdotally trackable), this is an excellent investment.
Please consider the DEPTH as well as the breathe of services rendered.
Stop a moment, if you will, and imagine what that kind of achievement this success will mean for every participant we can put through the full Grassroots Initiative to Break Poverty program  – and what it means for their families and our communities.
Please also weigh the significance of a grassroots, group collaboration of citizens and their organizations, taking responsibility together to end poverty in their own community.
 I want to help this Initiative grow.  Here's a donation. (Scroll down to bottom of page.)
 Start a dialogue with us toward building this initiative in your community.
Please contact us for more information or to start a Breaking Poverty Grassroots Initiative in your community:  Contact us